Running Daily till September
10.00am - 4.30pm (4pm during the winter).
Last train departs 15 minutes before closing time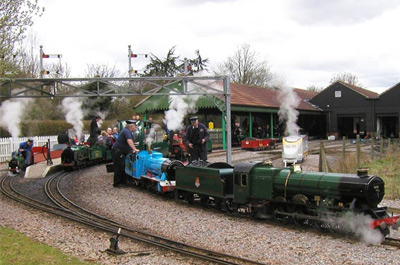 Arrive early, the Lakeside Café opens at 9:00am so why not join us for breakfast? The railway opens at 10:00am on running days so you'll have plenty of time.
There is ample FREE PARKING at the railway.
Toilets are situated by the entrance to the main station at Eastleigh Parkway.
Eastleigh Lakeside Steam Railway is a dual gauge 10¼" / 7¼" miniature railway running from its main station, Eastleigh Parkway, to Monks Brook Halt.
Trains run approximately every 20-25 minutes and are normally steam hauled.
The return journey of just under 1¼ miles, takes about 15 - 20 minutes.  Covid-19 running - please see front page
Attractions Nearby
Arrive early and spend the morning with us, then after lunch why not head for one of the wonderful places to visit nearby?